Looking for something fun to do this Halloween? Why not visit some of Ireland's most haunted places. 
If you are into all things spooky and want to go and do some ghost hunting this Halloween then we have the perfect list of places for you to go and explore. Bring your friends and channel your inner Scooby Doo. Be sure to bring your flashlights and be prepared to be scared half to death. 
Ireland is full of ancient ruins, abandoned hotels, and castles all of which have their own unique history and stories to tell. Many involving brutal battles or the killings of wrongdoers and murders that rocked the region. There are believed to be more than 450 haunted hotels and castles across the country that offer haunted adventures, where you can not only visit haunted sites, but stay there and await the ghostly spirits of those gone before us. 
Co.Cavan, Cabra Castle Hotel
One of Ireland's most renowned haunted places to visit is Cabra Castle hotel in Co. Cavan. Legend has it that previous tenants are still present, with one guest saying they witnessed a row between an old man and his son in relation to the sale of the castle. Another guest claimed to hear the sound of a horse and carriage throttling into the courtyard in the middle of the night, while another witnessed the sight of a man in an old military uniform marching down the corridor of the hotel. 
Co. Antrim, Ballygally Castle Hotel
You can stay in the 'Ghost Room' at Ballygally Castle Hotel in Co. Antrim. With past guests attesting to seeing up to three different ghosts. A previous owner is said to have locked his wife in the tower of the castle after giving birth to several children all female. The man had become disgruntled that the woman seemed to not be able to produce a male heir. Growing frustrated locked up in the tower the woman is believed to have leapt to her death on the rocks below. So a stay here means you may encounter the spirit of this woman and her children roaming the castle. 
Co.Donegal, Drumbeg Manor
Drumbeg manor in Donegal is seen to be one of the most haunted places in Europe. With many strange and unexplained events occurring over the years, there have also been reports of apparitions within the manor and around the grounds. Some spine-tingling sightings include a man in a white suit walking the halls and the random screams by a woman in the dead of night.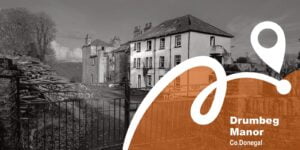 Co. Clare, Leamaneh House
In Co. Clare you will find the ruin of Leamaneh House. The story attached to it is that Maire Rua or Red Mary married up to 12 British soldiers, who all mysteriously died after a year and a day of marriage. After each murder, Maire Rua would then swiftly move on to her next unfortunate victim. It is believed that the soldiers eventually realised what was going on in the house and she was tied to a tree and left to starve to death. Her ghost is said to still haunt the house. 
Co.Kilkenny, Leamaneh House
Kilkenny boasts the Leamaneh House, the home of the first ever witch trial in Ireland. With many haunted tales linked to the Nore river flowing through the city. 
Co.Fermanagh, Cooneen Ghost House
Another well documented haunted house can be found in Co. Fermanagh called  Cooneen Ghost House which is an old ruin. It is believed to have been the home to witchcraft and murder in the early 1900's. The story goes that in 1913 a widow and her young children had to flee their home when a screaming ghost began to torment them every night. Their local community took the assumption that the family was haunted and cast them out. 
Co. Galway, Clifden Castle
Clifden the main town in Connemara is home to a castle, that is believed to be haunted by the spirits of those who when poor and dying took shelter on the castle grounds. The castle manor style building dates back to 1818 and was built for the local landowner at the time. The building has been lying idle since famine times with the last inhabitants thought to have left in 1894. It can be accessed through a gateway arch from the Sky Road leading out about 2 ½ Kms west from Clifden and is well worth the visit.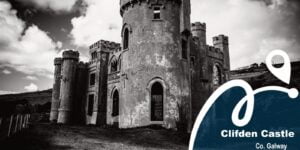 These are just a few of the many haunted places to visit in Ireland. Some of our tours pass by these haunted sites, so hop on board and get ready to hear some local tales of old. Or better yet, why not avail of our private hire and create your own spooky tour.