Are Christmas markets going ahead in Ireland?
In short, the answer is yes! 
Which city has the best Christmas market? 
Christmas is a special time of year anywhere in the world, but celebrate it in style with a trip to any of these top five Christmas markets in Ireland during this festive period. Find out for yourself!
The best Christmas markets to see around Ireland
In the guide below, you'll discover the five best Christmas markets Ireland has to offer. 
Galway Christmas Market 
The Galway Christmas Market is back this year to full capacity and will run from November 12th- December 22nd 2021. A little earlier start date than other years and an earlier finish too. But we won't complain once we can sample some of the delicious variety of foods on offer and sip on a glass of mulled wine. 
Returning for its 12th year, the Galway Christmas market will officially be the longest-running Christmas market in Ireland. 
For the best experience, we recommend waiting until it gets dark, then make your way to Eyre Square to soak up the lights and atmosphere. When it's lit up it feels very Christmassy. 
Have a go on the 32-metre Big Wheel or just take a selfie in front of it, either way, it's pretty cool and the views are spectacular. 
At your own pace, stroll from stall to stall, sample different foods, beers and crafts on offer, you will be spoiled for choice. But most importantly remember to just soak up the atmosphere. It really is the most unique part. 
For the true Christmas experience, you can visit this continental market from  12 pm to 8 pm Monday to Wednesday, and 10 am to 10 pm Thursday to Sunday. What better way to spend the lead up to Christmas 2021. 
Belfast Christmas Market
The 2021 Belfast Christmas Market will take place from Saturday, November 20th to Thursday, December 23rd. For those of you who have never been before, the market is held at the Belfast city hall, which makes for the perfect backdrop. 
The Belfast Christmas Markets first began back in 2004 which was then known as the Belfast Christmas Continental Market. Every year the market hosts a wide variety of local foods and crafts, giving attendees the chance to explore around 100 traders. 35% of the traders are local producers from Northern Ireland, while the market is said to have over 25 different nationalities showcasing their goods. The Market offers something for everyone with crafts, handmade gifts, decorations and mouth-watering food both from local Northern Ireland producers and from Europe and beyond as well.
The markets have become a festive favourite for families and friends to visit, it truly is a unique experience as it creates such a special atmosphere. You can shop, eat, drink and be merry all in one location.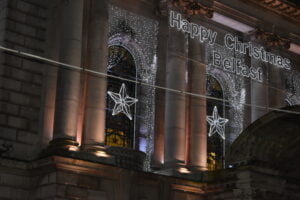 The opening hours for this year's market are: 
Mon-Wed: 10am – 8pm
Thurs – Sat: 10am – 10pm
Sun: 12pm – 6pm  
Dublin Christmas Markets
Dublin being the capital of Ireland means there are plenty of festive activities to choose from. The city has never really been on the map as a Christmas market destination but this is slowly changing with the city's festive outlook changing. There are now several Christmas markets to go and explore around the capital. 
The most popular market is based at Dublin Castle, you can expect to find carol singers, horse carriage rides and around 30 traders offering a variety of crafts, gifts, food and drink. The dates for this market are due to be announced on November 17th. 
Swords Castle Christmas Market will be operating from Friday 29th November from 3 pm – 8 pm, Saturday 30th November from 12 pm to 8 pm and on Sunday 1st December from 11am to 6pm. This market puts an emphasis on local traders, producers and artists. This is very much a family friendly market, where kids can expect to visit Santa Claus and take part in the Christmas cartoon cinema club. 
If a Ferris Wheel gets you in the Christmas spirit, then head out to Dún Laoghaire town Christmas festival. The lights are due to be switched on, on Saturday, November 30th, so why not visit and kickstart the Christmas celebrations. Their iconic 55ft Ferris Wheel will take centre stage again this year and the market itself is said to be a feast for the senses. Vendors are carefully selected to provide visitors with a fantastic variety of handmade gifts, foods and more. The market opens every weekend from November 30th to December 23rd. 
Sligo 
One of the best markets to visit in the West of Ireland around Christmas time is the Strandhill People's Market. The market operates out of a very unique venue, at Hangar 1 at Sligo Airport in Strandhill. Yes, it is in an airplane hangar! The market is brimming with a variety of crafts, textiles, artwork and local food suppliers, with plenty of seating outside to sit and enjoy the atmosphere. 
The details for the 2021 event have not been released but it is 100% going ahead so be sure to pop it in your calendar. 
Waterford Winterval
The organisers of the Waterford Winterval event claim it as Ireland's biggest Christmas festival. A festival that is not just focused on markets but also a large programme of events for all ages, some of which are free and others ticketed.
In its 9th year, the festival has some fan favourites that people always come back to visit but the organisers also encourage new vendors and events each year. In 2021 the festival will take place over 19 days starting from November 19th to December 23rd. The theme this year is 'Celebrate Together', which is very fitting given that family and friends can join together in the Christmas spirit at Christmas markets and events around Ireland this year. 
What can you expect? The event organisers say you can "look forward to a round-trip non-stop journey to a world of Christmas celebration, festive food and craft markets, live performance, family attractions, seasonal surprises and a plethora of free and ticketed programming for all ages to enjoy."